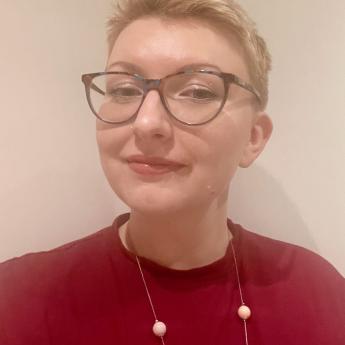 Alex joined the Institute for Crime and Justice Policy Research (ICPR) in 2021, as a Research Fellow working on the ERSC-funded project Voicing loss: Meanings and implications of participation by bereaved people in inquests.
Alex has an eclectic academic and professional background, beginning her studies in the humanities and spending several years in the charity sector. She completed a BA in History and a Masters in Medieval and Early Modern Studies from the University of Kent. During this time she developed an interest in performativity, gender, and sexuality, with her thesis focusing on Mary Frith and female cross-dressing in 17th Century London. 
After completing these studies, she spent several years in the charity sector working for health and social care charities in user involvement and quality assurance. Alex worked with people with learning disabilities, mental health support needs and people who had cared for someone living with a terminal illness. 
Alex returned to academia in 2018 and she is currently completing her PhD at the Open University in the School of Law. Her research takes a socio-legal approach and examines how disability is understood and defined in UK welfare law, with a particular focus on invisible disabilities and identity performances during disability assessments and tribunal hearings. Alex blends aspects of performativity, new materialism, disability studies and sociology to examine these spaces within the Personal Independence Payment process. 
Her thesis is titled 'Amplifying Disabled Identities: Invisible Disabilities in the Personal Independence Payment Assessment and Appeal Processes'.